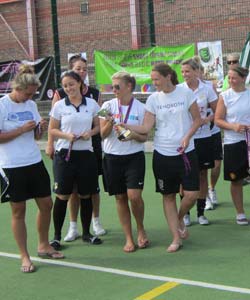 Our Ladies Futsal Team were founded in January 2014. They are a group of women who identify as being part of a local LGBT community in Manchester (additionally a couple of heterosexual women make the odd appearance for the team) brought together by Leanne and Steph Ashton-Smith, and they are very proud to play under the Just a Ball Game? name.Although they have only been together 2 years they have won the 2014 Manchester Winter Futsal League and Runners up in 2015, Summer league Runners Up 2014 and 2015,and adapted their game to be champions of Manchester Women's 7's tournament,Stanstock 7's and FvH Nottingham University tournament 6's, with just 13 different players turning out for the team conceeding only 7 goals in 27 games.
The experienced Leanne Ashton-Smith a PE teacher (who has played for Stockport, Chorley, Curzon Ashton and Leeds ladies teams) co-cordinates the squad to play Futsal and small sided games and is very much a key player equally at home in a goalkeeper role as being an outfield player. You can read about Leanne's adventure from a few years back documented here on our freinds SheKicks website: www.shekicks.net/flog/blogs/post/141
The ladies were aware that JBG? was an LGBT campaign using football as an educational tool,and after seeing one of our patrons Andie Worrall on board asked if they could set up the Futsal team in our name and play with our JBG? logo on thier kit.
Quotes from the team:
"We hope to inspire more people who are LGBT to be Out Proud and play a sport they love."
"Your sexuality should never be an issue all that counts is that you can play."
"we are all OUT to friends family, work collegues and enjoy being positive role models when playing football."